Hair Transplantation in Keha Skin & Hair Clinic

What is hair transplantation surgery?
This is a surgery in which a plastic or dermatological surgeon transplants hair from one side of the head and plants it on the bald area of the scalp. The hair is usually moved from the back or side of the head to the bald scalp which is mostly in front or top of the head. This procedure is done under Anaesthesia.
Who recommends a hair transplant?
Receiving a hair transplant can improve your appearance and self-confidence. Good candidates for a hair transplant include:

Male pattern baldness in men

Thinning hair in women

Loss of hair from a burn or scalp injury

People who have less quantity of "donor" hair sites from which hair is removed for transplant.

Women having a widespread pattern of hair loss throughout the scalp.

People who have a tendency to form keloid scars after injury or surgery.

People whose hair loss is associated with medication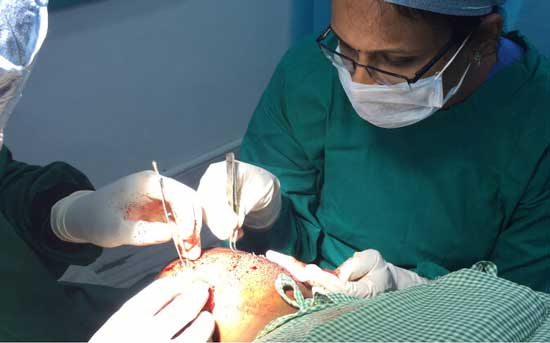 Hair transplantation procedure
Your scalp is cleaned thoroughly. The surgeon then numbs the area of your head using a small needle and local Anaesthesia.
Follicles for transplantation are harvested through either of the two techniques:
1. FUT (Follicular unit transplantation)
2. FUE (Follicular unit extraction)
Follicular unit transplantation (FUT)
The surgeon cuts out a several inches long strip of scalp skin from the back of the head, using a scalpel.

The cut is closed with stitches.

The removed portion of the scalp is separated into small sections using a magnifying lens and sharp surgical knife.

These sections are then transplanted to the bald or targeted scalp areas.

A natural-looking hair growth will be achieved.
Follicular unit extraction (FUE)
In this procedure, the hair follicles are cut out directly from the back of the head using tiny punch incisions that run in hundreds.

The surgeon then makes tiny holes with a blade or needle in the recipient area of your scalp. They gently place hairs in these holes, where they grow naturally.

A surgeon may transplant hundreds or even thousands of hairs in a single sitting.

After the procedure, your scalp is covered for a few days with gauze and bandage.

One hair transplant session can take four hours or more. Stitches are removed after 10 days from surgery.

To achieve the full head of hair, 1 session is needed. This is because each transplant needs to fully heal before another one is conducted.
Advantages of Hair Transplantation
Boosts Appearance
Most of the people who go for hair transplantation surgery say that they opted for the treatment because hair loss made them feel disappointed with how they look. With the hair transplantation procedure, they are given the opportunity to gain complete hair and make them feel confident in themselves.
Permanent Solution
Unlike most other methods for combating hair loss, a hair transplantation surgery is a highly reliable and permanent solution. Also unlike other methods, this is a one-time process, which means that you do have to spend money on any additional visits.
Eliminates Baldness
This treatment is one of the only ways to say goodbye to balding completely. You won't have to worry about any bald spots or receding hairline as the treatment solves all the problems. The hair growth after the surgery will not be as good as it was prior to the surgery but will be very close to it.
Minimal Maintenance
Another benefit is that you require very low maintenance after the treatment. As transplanted hair works like regular hair, you do not have to use any special products to maintain the new growth. Moreover, as mentioned before, it is a one-time process requiring no extra consultations after the procedure.
Do the transplanted hairs last?
Yes, the hair will continue to grow in the transplanted areas of the scalp. Please be sure about everything before you go for a hair transplant. Your doctor will answer all your queries.
Please be sure about everything before you go for a hair transplant. Your doctor will answer all your queries.
Why Keha
We have experienced dermatologists to make sure that optimal results are obtained while providing you with the best service possible.
Want to Make a Booking or Have a Question?
To book an appointment at our Clinic in Srinagar Colony, Hyderabad.
Call us:
Make an appointment